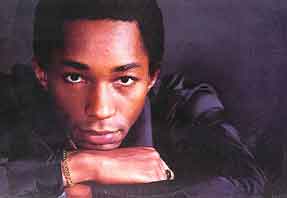 2010
gets off the ground funkayyyyyyyy with Wornell Jones. And again, I have to admit that I didn't know this artist until I came across his music online -- about 30 years after his album "Wornell Jones" was released.
See! There are still undiscovered gems waiting to be found ... At least for me.
His voice immediately reminded me of Donny Hathaway's; thank goodness, however, Wornell's vocals appeal to me not nearly as lamenting and tormented as Donny's. He's got the throaty, pleading Hathaway quality without the melancholic touch.
Fall In Love Again,
my pick for this post,
is 70's Funk deluxe. The song made it into my fav's playlist right away. The only thing I don't like about it is that it is way too short. It leaves me wanting for more of that driving rhythm ...
Here's a short bio of Wornell Jones. I must say, I was surprised to read all the glamorous names he was associated with back in the day: Joe Simon, Eddie Kendricks, Rufus ...
Quite impressive resume! But the main part of his contribution to music was as a musician in the background; his self-titled album, it seems, remained the burst out into the open in his career.
"Born in Washington D.C., Wornell Jones grew up in the neighbourhoods of the area.
As a youngster, Wornell was always playing, singing or doing something musical.
After playing in local bands in D.C., Wornell began undertaking studio sessions in the early seventies for soul artists including
Millie Jackson
,
Joe Simon
, and other groups and artists.
In 1979, he released his self titled album for Paradise Records.
The album contained the track 'Must Have Been Love', which was highly popular in the U.K.
The female co-vocalist on the song was Maxayn Lewis Moriguchi, who still collaborates with Wornell to this day.
Wornell has also worked with songwriter and guitarist, Nils Lofgren formally of the E Street Band.
He recorded and toured extensively with Nils, until moving to Tokyo, Japan in 1992.
He is a good friend of the artist Art Madison."
This clip is from a live performance in the 90's in Japan.
Fall In Love Again
(Wornell Jones, 1979, Paradise Records)